Which online database is right for you?
Video Guides:
How to Access Databases (1:47)
Choosing a Database (3:05) Note: BlackBoard is now Canvas. Passwords are located in Canvas.
How to Choose a Database (1:08)
What are Databases (3:56)
How to Search Databases (5:18)
Comprehensive Databases - A Great Place to Start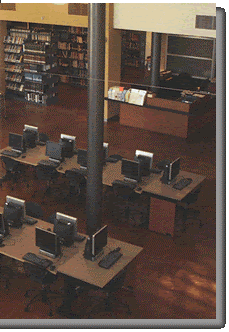 Comprehensive Databases contain articles from newspapers, magazines and scholarly journals on all topics. Academic Search Premier and MasterFile Premier are the most comprehensive databases available. Academic Search Premier is a better choice if you are looking for scholarly journals. MasterFile Premier contains more general magazines.
Newspapers are another source of comprehensive information. National Newspaper Core contains full-text of the Los Angeles Time (1985 to present), New York Times (1980 to present), Wall Street Journal (1982 to present), Christian Science Monitor (1988 to present) and Washington Post (1988 to present) The New York Times Historical database contains full-text beginning from 1851. Newspaper Source is a full-text collection of regional, national and international newspapers.
Social Issues Databases
SIRS Knowledge Source: SIRS is a specialty database that focuses on current events, social and political issues. SIRS contains the full-text of magazines, newspapers and government documents, including Supreme Court decisions. It is an excellent choice if you are writing a position paper or giving a persuasive speech. Need ideas for a topic? Look at SIRS Leading Issues page for suggestions.
Want to think outside the box? Ethnic NewsWatch database provides multicultural full-text titles directly from the presses of ethnic, minority and cultural groups, from 1970 to current.
Literary Information
Literary Reference Center includes journals, magazines and books that contain review essays, book reviews, character analyses, literary criticisms and author biographies for popularly assigned readings in college courses. Academic Search Premier, National Newspaper Core and Ethnic NewsWatch are other good databases for literary research.
Medical Information
Medical and Nursing Collection, Health Source – Nursing Edition and Medline. These databases contain medical and scholarly information and are a good choice for allied health research. For general health information see Health Source - Consumer Edition. Alt-HealthWatch focuses on complementary, holistic and integrated approaches to health care and wellness.
Other Special Collections
Other Special Collection databases contain publications specifically on Business, History, Education, Psychology and Philosophy.
Searching all All EBSCO Databases will give you the opportunity to search the EBSCO databases listed above and a few not listed such as Military and Government Collection, Funk & Wagnall's New World Encyclopedia and Primary Source.
Students need passwords to access the databases off campus. Passwords can be obtained in the library or by logging into Blackboard with your student ID number.